Easy user interface
Rhino and VisualARQ interface, toolbars and dialogs are meant to be intuitive and easy to use. In addition, most of the interface and toolbar settings are fully customizable by the user preferences.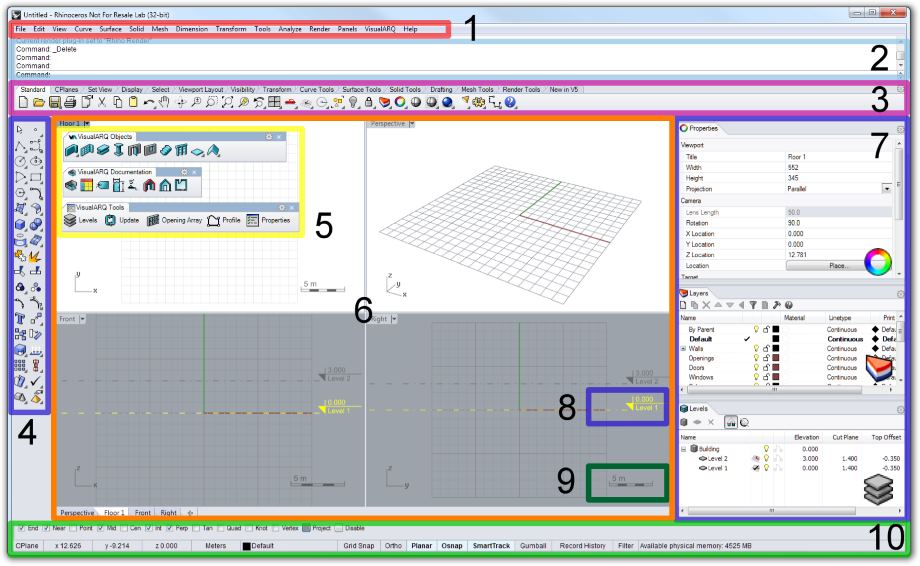 Overview
1. Drop-down menu: groups all Rhino and VisualARQ commands by function.
2. Command line and command history window: displays prompts for command actions, allows typing command names and options. The lines above display the previous commands and prompts.
3 and 4. Toolbars: they contain graphical icons to run commands. Toolbars and icons are fully customizable. They can be arranged in tabs (3), docked aside (4) or float over the interface.
5. VisualARQ toolbars: VisualARQ commands are arranged in 3 toolbars: Architectural objects, Documentation tools and Other tools. They behave as any other Rhino toolbar.
6. Viewports: displays the Rhino working environment including object display, viewport title, background, construction plane grid and world axis icon. Viewport sizes and settings can be easily changed and customized. New viewports can be added, float over the interface and be shown in perspective or parallel projection. The viewport tabs at the bottom manage multiple-page layout style viewports along with standard modeling viewports
7. Properties and editor dialogs: these dialogs can be docked at the viewport sides, arranged in tabs and float over the interface.
8. Level Elevation references: they specify the elevation of the existing VisualARQ levels in the document, in the Front and Side viewports.
9. Scale icon: this dynamic icon displays the model scale according to the zoom in the current viewport. It only appears in the viewports with parallel projection views.
10. Osnap toolbar and status bar: the osnap toolbar contains persistent object snap toggles. The status bar displays the current coordinate system, the current location and delta of the cursor, and the status bar panes.
VisualARQ dialogs
VisualARQ has different types of dialogs that help the user edit objects, create new styles and make the modeling process faster and easier.
Level Manager
The Level Manager allows you to organize your project in different buildings and levels.
You can easily change the level construction plane, hide and show levels, and activate the 2D representation of VisualARQ objects.
More information here.
Object Insertion dialog
Style list: shows the object styles library to insert in the model.
Information: shows the modes to specify when to insert an object (regardless of its style properties).
Preview: shows a preview of the current object to insert in 3D and 2D Plan view display.
Object Style Manager
Defines and edits the parameters of an object style and its components.
Uses wizards to create and edit new architectural objects. A preview window shows modifications in real time.
Assigns and edits object attributes for each object component: material, graphic representation, printing properties, display, etc
Pressing Alt, Shift or Ctrl and double clicking on any VisualARQ object opens the style manager for the selected object only.
Object Properties dialog
Object properties can be also edited from the VisualARQ properties dialog. 
A double click on any VisualARQ object works as a shortcut to open this dialog.
Object Properties: Properties panel in Rhino
Object properties can be also edited from the VARQ section inside the Rhino Properties dialog.
The More... button provides shortcuts to quickly access to the related settings of the selected object (style properties, object properties, section options, print display, annotation settings, etc...)