McNeel
e
SimplyRhino UK
sono lieti di annunciare gli eventi Shape to Fabricaton e Rhino "New Developments" Day. Le ultime novità su VisualARQ 2 verranno presentate durante entrambi gli eventi e il
team di sviluppo di VisualARQ
mostrerà e spiegherà agli utenti interessati le funzionalità BIM associate al flusso di lavoro con Rhino.
23 aprile 2018
Stratford Circus, Theatre Square in Stratford, Londra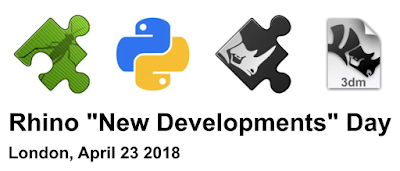 L'evento Rhino New Developments Day è rivolto a persone e organizzazioni interessate ad approfondire le funzionalità di Rhino attraverso Grasshopper o API pubbliche come RhinoCommon. L'evento è gratuito, ma i posti sono limitati. Questo evento avrà luogo il giorno prima della conferenza Shape to Fabrication.
Infomazioni complete ed iscrizioni…
24 e 25 aprile 2018
Stratford Circus, Theatre Square in Stratford, Londra
Una conferenza di 2 giorni incentrata su AEC (architettura, ingegneria e costruzioni), dove i principali sviluppatori e studi di architettura mostreranno i propri progetti e lavori recenti. Organizzata da SimplyRhino UK, la conferenza Shape To Fabrication si incentra su tecnologia di punta, costruzione e applicazioni innovative in architettura, ingegneria e design. Gli oratori di quest'anno plasmeranno il futuro, innalzando senza timore la tecnologia e l'ingegneria a un livello superiore. Ecco alcuni dei partecipanti: Heatherwick Studio, Arup, Chris Precht – Penda, Foster + Partners, Ramboll, Loop.ph, Proving Ground, Mortiz Waldemeyer, Mamou-Mani, McNeel, Fologram, 3XN e altri ancora! Le funzionalità del BIM flessibile e le ultime novità su VisualARQ 2 verranno spiegate da Luis Fraguada e Francesc Salla durante la presentazione
"AEC adventures"
, il 25 aprile alle ore 12:30.
Acquista qui i biglietti per Shape to fabrication…