McNeel
and
SimplyRhino UK
are pleased to announce the Shape to Fabricaton and Rhino "New Developments" Day. The last news on VisualARQ 2 will be presented during both events, and the
VisualARQ developement team
will be available to show and speak with anyone interested in the BIM for Rhino workflow.
Monday, April 23rd, 2018
Stratford Circus, Theatre Square in Stratford, London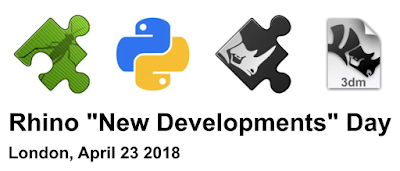 The Rhino New Developments Day is geared towards people and organizations interested in extending Rhino's functionality either through Grasshopper or through public APIs like RhinoCommon. The event is free to attend, but space is limited. This event takes place one day before the Shape to Fabrication conference.
Complete details and registration…
April 24th and Wednesday April 25th, 2018
Stratford Circus, Theatre Square in Stratford, London
A 2-day AEC focused Conference where the main Architectural studios and developers will show their recent projects and work. The Shape To Fabrication conference has a focus on cutting-edge technology, innovative construction and applications in architecture, engineering and design. This years speakers are shaping the future, unafraid to push technology and engineering to new heights. Presenters will include: Heatherwick Studio; Arup; Chris Precht – Penda; Foster + Partners; Ramboll; Loop.ph; Proving Ground; Mortiz Waldemeyer; Mamou-Mani; McNeel; Fologram; 3XN and many more! The Flexible BIM features and last news on VisualARQ 2 version will be shown by Luis Fraguada and Francesc Salla during the
"AEC adventures"
presentation, on Wednesday 25th April, 12.30h.
Buy shape to fabrication tickets now…