VisualARQ License Modes
VisualARQ has five license modes: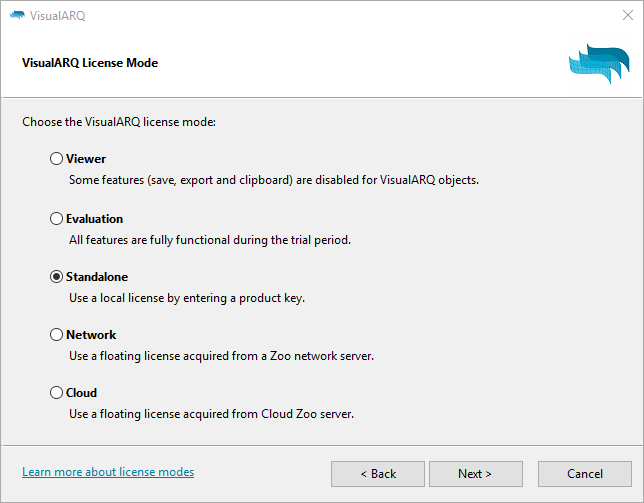 Viewer
VisualARQ runs in Viewer mode when the evaluation period has expired. When this happens, you can open and save documents that contain VisualARQ objects, but some features are disabled:
VisualARQ commands
Edit VisualARQ objects using properties and control points.
IFC import and export.
VisualARQ Grasshopper Components.
Evaluation
All VisualARQ features are fully functional during the trial period. No product key is required.
Standalone
A valid product key is required to run VisualARQ in standalone mode.
Buy VisualARQ
to get a valid product key.
Network
Use a VisualARQ license acquired from the
Zoo server
. Zoo server software with the VisualARQ Zoo plug-in (both free) lets you share VisualARQ licenses (product keys) among users on the same network workgroup. When VisualARQ is installed as a workgroup node instead of stand-alone, it works like this:
When a workgroup node starts, it requests a license from the Zoo.
An unused license is assigned to the node.
When a node shuts down, the license is returned to the Zoo license pool.
Download the VisualARQ Zoo plug-in here
Cloud
Use a VisualARQ license acquired from the Cloud Zoo server. The Cloud Zoo server is a free service provided by McNeel that lets you manage the VisualARQ license online.
For individual users, use the Rhino Accounts login to use VisualARQ on any computer worldwide.
For corporations and schools, Cloud Zoo can simplify license distribution. Organizations can create a pool of licenses and share the licenses with team members.
Work online or offline. No need to check out licenses, so you should not be caught out on the road without a license.
Licensing will even work without a constant internet connection.
More information about Cloud Zoo