A good way to get out of the office to clear your head without -that's important- feeling guilty, is an activity that, paradoxical as it may seem, can combine pleasure and profession. Which one? A good exhibition or a conference that can enrich your vision about your work. Here are some examples, they may not take place in your city but, if you are planning a trip, you can include them in your program. If you had not planned it but you think that you deserve a break, go ahead. Here you have good excuses.
BARCELONA – Exhibition "Architects of Nothingness"
The exhibition brings together the works of 12 Japanese architects who pay specific attention to the relationship between people and the architecture where they live, while encouraging the connection between urban world and nature as elements of the same landscape.

What will you find? Videos, plans and furniture of more than 20 works of 12 architecture studios. It is a transgenerational itinerary, from Toyio Ito to the most promising young Japanese architects, including SANAA, the most internationally acknowledged firm: Toyo Ito, Shigeru Ban, Shinichi Ogawa, Kengo Kuma, Kazuyo Sejima, Tezuka Architects, SANAA (Kazuyo Sejima y Ryue Nishizawa), Sou Fujimoto, TNA / Makoto Takei & Nabeshina Chie, Junya Ishigami and Go Hasegawa. You have time until April 17th, in a splendid architectonic ensemble: the Santa Victoria Pavilion in a former hospital, the Sant Pau's Modernist Venue, Sant Antoni M. Claret, 167. Open from Tuesday to Saturday, 12 h -14 h and 16:30- 19:30 h. You will find more information at
https://bit.ly/MpcGOI
MADRID – Exhibition "Miradas en paralelo: Miguel Fisac y Alejandro de la Sota"
To commemorate the centenary of the birth of both architects, the ICO Foundation presents all kinds of materials related to their work and you will see more than 500 documents, models, sketches, photographs, furniture and other objects. A reminder of some Madrid buildings: Miguel Fisac is the author of the IBM building and Alejandro de la Sota, the author of the Maravillas Gym. Visit the ICO Museum at Zorrilla, 3, from Tuesday to Saturday, 11h to 20h (Sundays and holidays only until 14h) You will find more information at 
https://bit.ly/1aEIjyA
LONDRES – Exhibition "Sensing Spaces: Architecture Reimagined"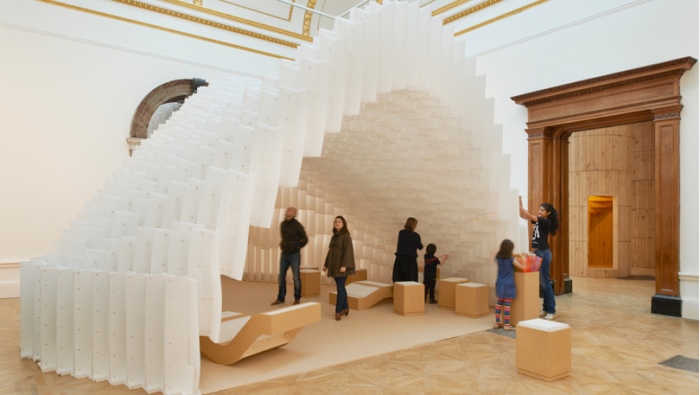 What sort of space could make the visitor aware of himself, the architectural context and environment? This question was the starting point for this project of the curator Kate Goodwin. Seven architect studios of four continents provide their answers to the questions about our relationship with space and how architecture affects our lives, not from a merely theoretic perspective but from real experience. 13 galleries contain a series of large scale installations, where lighting, textures and colours invite to touch and climb the pieces. Risky, isn't it? Besides, there is a 15 minute film where all seven architects introduce their perspectives beyond their works. They are: Grafton Architects (Ireland), Diébédo Francis Kéré (Germany/Burkina Faso), Kengo Kuma (Japan), Li Xiaodong (China), Pezo von Ellrichshausen (Chile) and, representing Portugal, Eduardo Souto de Moura and Álvaro Siza. • Option A) To visit this monumental exhibition at the Royal Academy of Arts (Burlington House, Piccadilly). It will be open until April 6 (from 10 to 18 h and Friday 22 h) • Option B) To visit the micro-site, the blog and the video specifically created for the exhibition:
https://bit.ly/1f8V55y
(Article by M.A. Núñez)