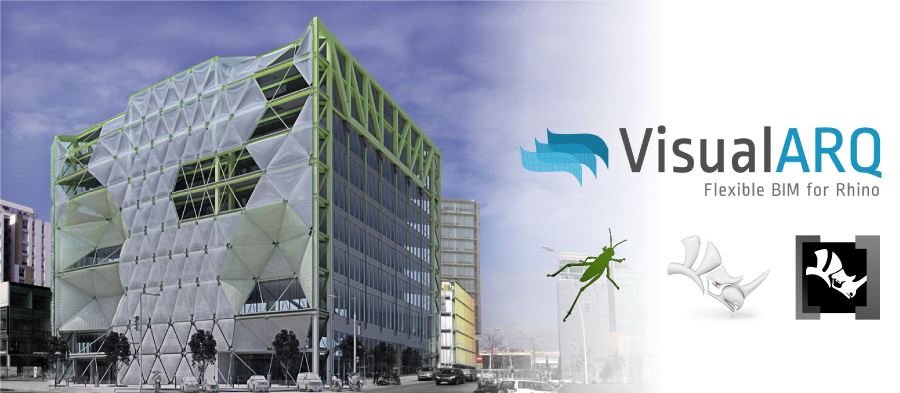 BIM Workflow with VisualARQ, Grasshopper, and Rhino.Inside.Revit
25 May 19h-21h CST
Online event in English and Chinese
Free
Asuni and ShanghaiBIM are the organizers of this online presentation, where you will see the main "Flexible BIM" features VisualARQ adds to Rhino and Grasshopper for developing a project of architecture inside Rhino, producing the 2D documentation drawings, and delivering a BIM model for other AEC applications.
The presentation will focus on the integration of VisualARQ with Grasshopper and the unlimited possibilities this combination of tools offers in BIM workflows. In addition, it will also focus on how VisualARQ can help you to communicate Rhino models with Revit with the Rhino.Inside technology.
You will see:
How to work with parametric architectural objects.
How to create new object styles (object "families") and set up your templates.
The Level and Section manager, which let you work and organize the model at different levels and sections.
How to produce 2D drawings from the 3D model
How to generate dynamic BIM objects driven by Grasshopper (also known as "VisualARQ Grasshopper styles") with unlimited options of design.
How to automate many modeling tasks through the VisualARQ components built for Grasshopper 3D.
How to add custom data to geometry and list in schedules.
Interoperability with Revit through Rhino.Inside.
How to deliver BIM models and collaborate with other tools through the IFC import/export capabilities.
ShanghaiBIM is a non-profit BIM Interest group that began nearly 10 years ago. It started as a buildingSMART Interest group that held monthly meetings on IFC and interoperability at International Design Firms located in Shanghai.
ShanghaiBIM focuses on overseas high-end construction technology information sharing and resource docking, aiming to build a platform for industry information sharing and exchange for practitioners in the field of engineering construction technology in China.
Since 2012, ShanghaiBIM has organized hundreds of technology-sharing activities and five AEC Hackathon events.