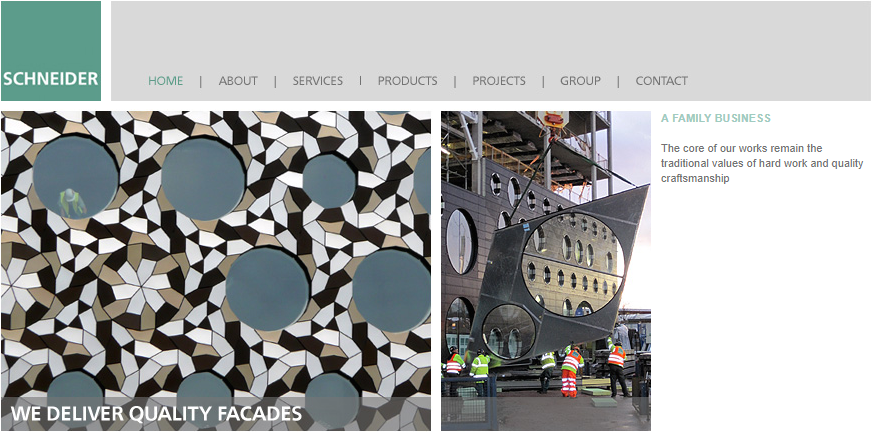 We are looking for an architect / 3D designer for our team in Stimpfach.
Schneider
is one of Europe's leading addresses for the design and construction of façades and complex building envelopes made from glass, steel, aluminium, timber and other high-tech materials. About 1,100 employees work at the Schneider group's 9 locations around Europe. As a medium-sized family company, we enjoy ideal conditions to be able to react flexibly to customer requirements. In so doing, we use excellent engineering work and technical solutions, thought out down to the last detail, to set standards for facades, which are of excellent architectural and constructive quality, all over Europe. If you are passionate about outstanding design/architecture, we are looking for you!
Your Role
As an Architectural 3D Designer, you will collaborate with our design team to develop innovative design solutions for façades as well as coordinate the design through the construction documentation phase of a project. Your work ethic and dedication to problem solving, combined with our commitment to collaboration and mentoring, makes Schneider the perfect place to further your career.
What You Will do:
Working closely with the architectural team to develop design solutions for various types of facades.
Developing and resolving technical details while maintaining design intents.
Technical Documentation.
Coordinate with consultants throughout the project phases.
Your Qualifications:
Professional degree in Architecture, Civil engineering.
Proficient in AutoCAD, Rhino/Grasshopper, (Inventor).
VisualARQ skills appreciated.
Knowledge of rendering software is desirable.
Strong in graphic and visual representation skills; sharp-edged spatial sense.
Fluent in written and spoken in English.
Perspectives:
Inspiring projects in an agile and dynamic work environment
Working independently, goal-oriented and with an impact
Great potential to develop your career within a growth company
Interested?
Then apply with your application documents (cover letter, CV)! The relevant contact person is Markus Knörzer- we are looking forward to your application!
Gebrüder Schneider Fensterfabrik GmbH & Co. KG
Rechenberger Straße 7-9
74597 Stimpfach Germany
t: 0049 (0) 7967 151 221