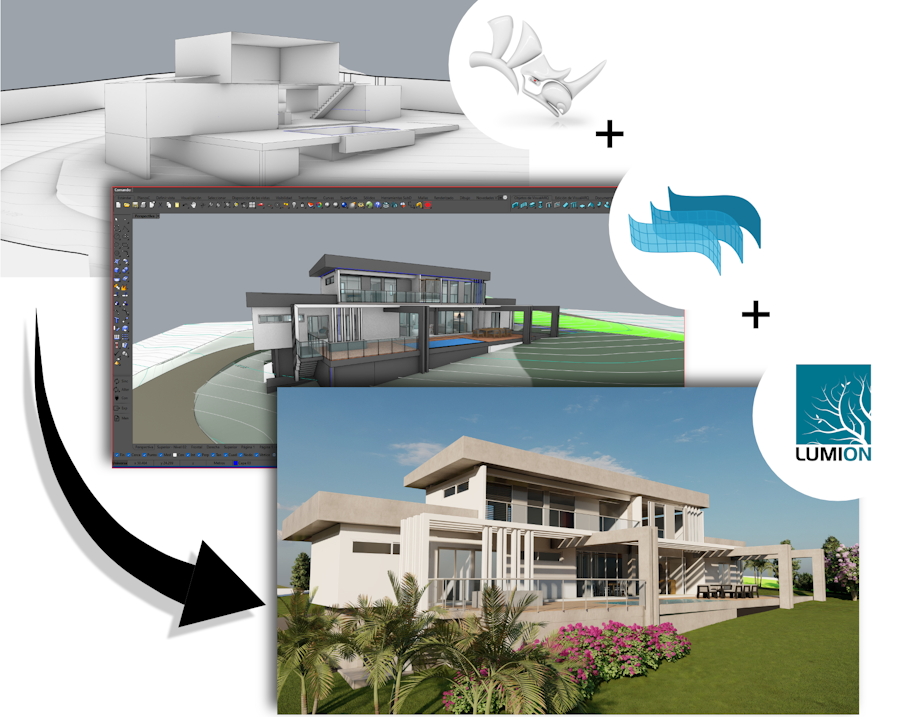 VisualARQ played a crucial role in the design process of this residential apartment project in Costa Rica, showcasing the architectural expertise of Costa Rican architect Javier Castro. By utilizing Rhino and VisualARQ, the project evolved from conceptual volumes to stunning photorealistic images, both for the interior and exterior.
Nestled in the scenic hills near the Pacific Ocean in Guanacaste, this modern tropical-style house aimed to seamlessly integrate the architecture with the surrounding landscape, creating a harmonious living space. To achieve this, the design process was divided into two distinct phases.
Initially, the architect developed a diagrammatic outline of the architectural program and design intentions using Rhino geometry. This allowed for the exploration of various design and distribution options. However, to bring these concepts to life and provide a final presentation for the house, VisualARQ was employed.
VisualARQ swiftly transformed the conceptual volumes into a detailed BIM model in just a single day of work. The parametric architectural objects provided by VisualARQ replaced the initial surfaces and volumes, ensuring accuracy and precision throughout the design.
The Level Manager in VisualARQ automatically generated 2D floor plans, streamlining the documentation process. This feature eliminated the need for manual floor plan creation, saving valuable time for the architect.
The true power of VisualARQ became evident through its intuitive editing capabilities. The architect could easily experiment with multiple design options and present them to the client promptly. With a few simple clicks, walls, doors, windows, and floors could be moved or modified. Object styles and designs could be edited effortlessly, and material choices and furniture distribution could be altered within minutes.
This seamless workflow allowed for efficient communication between the architect and the client, resulting in a collaborative and iterative design process. VisualARQ provided a visual representation of design changes in real time, enabling the client to make informed decisions.
In addition to the powerful capabilities of VisualARQ, the final renders and video animations for this residential apartment project were created using Lumion.
The combination of VisualARQ and Lumion enabled the architect to deliver stunning visualizations that showcased every aspect of the design. These photorealistic images and video animations brought a sense of realism to the project, helping clients to visualize the final result and make well-informed decisions throughout the design process.
Following the same workflow described here, other architectural projects designed by Castro have been successfully brought to construction, such as the Casa Caleta project.
In conclusion, VisualARQ revolutionized the design process of this residential apartment project in Costa Rica. It enabled the architect to swiftly transform conceptual volumes into a detailed BIM model. The software's editing capabilities facilitated design exploration and quick client presentations. Thanks to VisualARQ, the project evolved from mere concepts to stunning photorealistic images, demonstrating the architect's vision and expertise in creating a modern tropical oasis.
You can see more images and information about this project here.