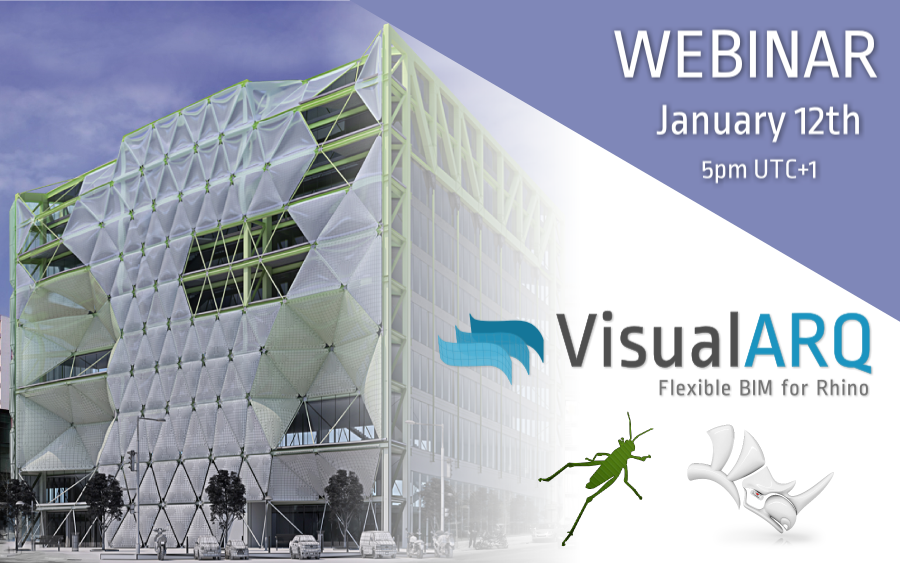 When: January, 12th 2023, 5 pm (UTC+1)
English
Start 2023 learning the VisualARQ key features every architect that uses Rhino should know and take advantage of.
This webinar will cover an overview of the "Flexible BIM" features VisualARQ adds to Rhino and Grasshopper for developing a project of architecture inside Rhino, producing the 2D documentation drawings, and delivering a BIM model for other AEC applications.
You will learn:
How to work with smart parametric architectural objects.
How to produce efficiently 2D drawings of your project in Rhino.
How to generate custom dynamic BIM objects driven by Grasshopper (also known as "VisualARQ Grasshopper styles") with unlimited options of design.
How to automate many modeling tasks through the VisualARQ components built for Grasshopper 3D.
How to add and manage custom data to geometry and list it in schedules.
How to deliver BIM models and collaborate with other tools through the IFC import/export capabilities and Rhino.Inside.
The webinar will take around 1 hour, including Q&A, it is free, but registration is required.