Full integration in Rhino workflow
VisualARQ is totally built in Rhino interface: Rhino-like menu, toolbars and commands behavior.
Displays a standard 2D architectural representation of the 3D model.
VisualARQ uses the same viewport system, adding a graphic scale and elevation mark references.
Parametric architectural objects
VisualARQ has a library of parametric architectural objects which are supported by NURBS curves, so you can have any possible shape. Objects can be created from straight lines, arcs, or follow free-form curves.
Every VisualARQ object (except Slabs and Roofs) has a library with different object styles. Objects can be edited, modified, extended, and attributes can be assigned to each object. Objects can also can be imported or exported to be used in other documents.
VisualARQ objects (except Slabs and Roofs) have control points to change object dimensions and position straight on the model.
VisualARQ objects can be edited at any time.
Walls
Wall intersections are solved in 3D and 2D graphic representation.
Wall joints, wall components wrapping and graphic 2D representation are fully customizable.
Dynamic dimensions show information about the object under the cursor when no command is active. (siSmartInfo command to turn this feature on or off).
Command to create walls from curves in any shape, which are editable using the base line control points. (video)
Command to extend walls vertically to a surfaces, polysurfaces, roofs and slabs.
Commands to execute boolean operations with walls: add, subtract and extract solids.
Options to select walls: connected walls to the specified walls, and doors or windows contained in the specified walls.
Command to split a wall by a specified point.
Command to reverse the wall direction: the start point becomes the end point, the inner part becomes the outer part, and vice versa.
Doors, windows and openings can be inserted in any wall style and any wall shape.
Doors, Windows and Openings
Option to define a custom door/window/Opening style using a 3D block for the Model view and a 2D block for the Plan view. A custom profile is also needed to define the shape of the rough opening in the wall. (video)
Doors, windows and openings can only be inserted in the wall to which they are anchored. Their openings are generated automatically in the wall they are inserted and update automatically after any modification. (door video, window video)
Command to array doors/windows inside a wall.
Style properties for doors and windows: Attributes, Name, Opening type (swing or sliding), Shape (Profile), Frame, Stop, Leaves, glass (with or without muntins) and Custom Blocks. Windows can also have Sill.
Windows and doors can be created from profile curves directly in the model (video)
Columns and Beams
Columns and Beam are defined by a Profile: a parametric profile library is included for each object. They can be edited at any time.
Columns can have a coating component.
Columns can be inserted inside or outside a wall. Intersections are automatically calculated in Plan and Model view. (video)
Beams can be created from a curve in any shape. Beams get the same control points as the original curve, so they can be edited. (video)
Stairs can be straight or can have stair flights with different directions, joined with landings.
Stairs have as many control points as stair flights, plus the insert point. These control points allow to edit the stair flights direction and length.
Stairs can have slab and its top and bottom thickness can be edited to be adapted to the landing slab thickness
Spiral stairs available. (video)
Railings (video)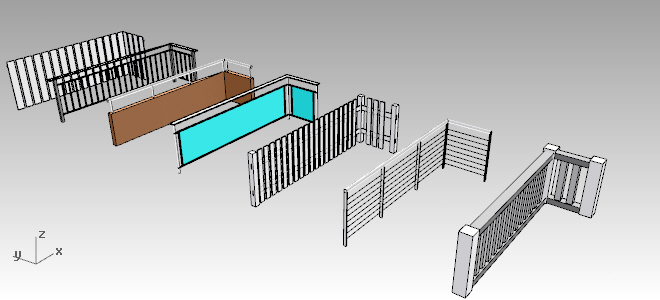 Railings are defined by the parameters and combination of their components: posts, rails and balusters.
Several parameters define the rails, posts, and balusters of a railing style: custom shape profiles, ends margins, alignments, location, etc...
Railings can be created from a curve in any shape. Railings get the same control points as the original curve, so they can be edited.
Slabs and Roofs (video)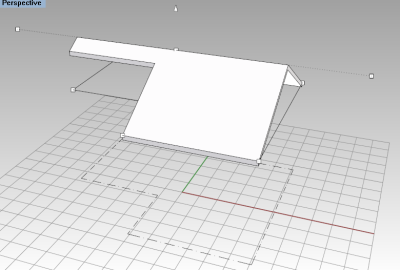 Slabs and Roofs are directly created and defined by the projection of any type of closed and planar curve.
Option to create Shed, Gable and Hip roofs. 
There are 3 options to define the Roof edge cut: Flat, Square and Plumb.
Commands to execute boolean operations with slabs and roofs: add, subtract and extract boundaries.
Command to change the slab and roof thickness.
Command to change the roof slope angle in general or for each roof face individually.
Slabs and Roofs have as many control points as the curves they were created from. These control points allow to edit their contour and change the new boundaries that have been added or subtracted.
Floating dialogs
VisualARQ has different types of dialogs that help the user work, edit objects, create new styles and make the modeling process faster and easier.
Level Manager (video)
The Levels dialog box allows to create and control new buildings and floors at different levels.
From the Levels dialog box you can have the control of each level CPlane (working plane), display and lock/unlock status, as well as its elevation and cutting plane values.
Command to set the current floor within a view window, by double clicking on the level name.
Option to choose between VisualARQ top view display and Rhino viewports.
Object insertion dialog
Style list: Shows the object styles library to insert in the model.
Information: Modes to specify when to insert an object (regardless of its style properties).
Preview: Shows a preview of the current object to insert in 3D and 2D Plan view representation.
Object style manager
Defines and edits the parameters of an object style and its components.
Uses wizards to create and edit new architectural objects. A preview window shows modifications in real time.
Assigns and edits object attributes for each object component: material, graphic representation, printing properties, display, etc
Object properties dialog
Object properties can be also edited from the VARQ section, integrated inside the Rhino Properties dialog.
Documentation and other tools
Command to create one or multiple spaces. The information of the spaces (name, area, perimeter, etc) is displayed in a label and geometry is marked with a hatch pattern.
Spaces can be created by picking an inner point (of a closed boundary made of walls and/or columns), from a curve or from a flat surface. They all work by floors.
Spaces created with pick point option can be updated with VisualARQ update command.
Spaces are also linked to VisualARQ tables.
VisualARQ includes two predefined table styles to quantify Openings and Spaces, but new table styles can be created to quantify any VisualARQ object.
Tables can quantify, for instance, the area, length and volume of VisualARQ objects.
Tables are linked to the model: when the model is edited, the information shown inside the table can be updated using the update command.
Tables can be exported to Excel and .csv format.
Opening elevations
Command to create 2D drawings for all the selected openings (doors and windows) in a model.
Opening elevations are displayed in the Plan view with their main dimensions and with a reference that identifies their location in the model.
Opening elevations are also linked to VisualARQ tables.
Sections (video)
Command to automatically create sections and elevations of the project: The 2D drawing created with this operation shows the projection of the selected 3D objects, as well as a cutting line and a section reference text displayed in the Plan view.
Dynamic section: option to visualize the model sectioned in real time.
Rhino and VisualARQ objects are hatched in section drawings, according to the attributes of the different Section View styles. (video)
Sections are linked to the model: When moving the section cutting line the 2D drawing updates automatically.When editing/deleting any of the selected objects, the 2D drawing can be updated using VisualARQ update command.
Plan View
Command to create a plan view: the 2D drawings created with this operation can be used to set the different layouts.
In the level manager dialog box, there is an option to choose between VisualARQ top view visualization and Rhino Top viewport.
Option to create automatic dimensioning when creating a floor Plan view.
Real-time Plan Views in page Layout details.
New Profile
Command to create custom profiles that can be used for creating custom columns, beams, doors, Railings, windows and openings. These profiles are not parametric.
Update
Command to update the changes applied to one or more objects, in those cases when the update process is not automatic.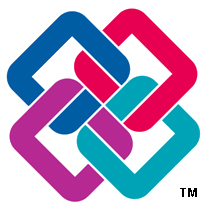 File format compatibility
VisualARQ files are saved as Rhino .3dm files.
IFC Exportation: VisualARQ includes IFC format export module, which allows exporting files keeping the BIM information, so that it can be read in other software applications. Read more information here.
Import and export into AutoCAD: Import .dwg files into Rhino and VisualARQ and convert the 2D lines in 3D geometry.  Export the floor plans, section and elevation drawings generated in VisualARQ into AutoCAD as .dwg files. Read more information here.
Render
VisualARQ material manager supports materials of all render engines that are supported by Rhino. These are some of the most used render engines:

Rhino render
V-Ray for Rhino 
Flamingo nXt
Maxwell render
Brazil
Penguin

VisualARQ object material assignment works as in Rhino.

Integration with Grasshopper
The Grasshopper Components add-on allows you to create and work with VisualARQ architectural objects directly from Grasshopper. 
It allows to create generative algorithms involving VisualARQ objects inside Grasshopper in order to explore new shapes and parameterize your architectural design.
Savanna 3D
VisualARQ includes SAVANNA3D, a set of over 1000 detailed 3-D models in 3DM format, with collections of commonly used objects grouped by type or function. These collections bring together an extensive and complete library of Rhino blocks prepared for architectural and interior design. (The download option doesn't include Savanna 3D).
Watch in this video some 3DM files from the Savanna3D Library.
Savanna3D is a product of McNeel Miami. You can download a free demo here.