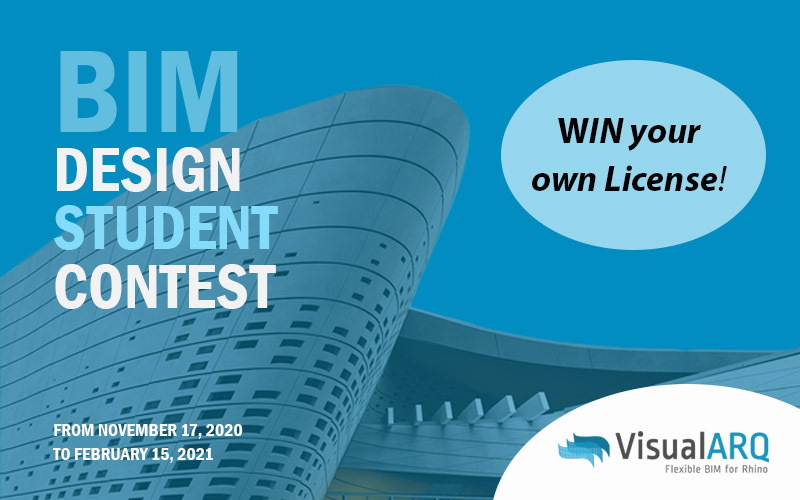 The VisualARQ BIM Design student Contest seeks to recognize emerging talent in AEC students. The competition is open to any student enrolled in an academic program (during the 2020 – 2021 academic year) associated with the AEC industry (proof of enrollment required). Competition entries will take advantage of VisualARQ tools to create innovative spaces that are considerate of the current societal pressures around the world.
Participants can use the VisualARQ evaluation version that is available for 90 days.
Registration and submission:
Fill the form below for registering your interest in the competition. A subsequent form will be emailed to you with the submission requirements, other relevant details of the contest, and a link that will allow you to submit an entry for the competition.
The projects shall be submitted before 15 February 2021.
Jury:
The VisualARQ team at Asuni will make a technical preselection of winner candidates, that will be finally evaluated by the final Jury:
The judging criteria will be based on following aspects:
Architectural Concept design / response to the project issues
Documentation (floor plans, sections, elevations, quantity take-offs)
Use of BIM concepts (styles, association, data structure..)
Model Flexibility – can it be updated easily? How is it organized?
Use of VisualARQ tools
Use of IFC interoperability
Feasibility
Awards:
The awards will be delivered on 1st March 2021
1st Prize: 1 VisualARQ educational license + 1 Lands Design educational license + 1 VRay for Rhino educational license.
2nd Prize: 1 VisualARQ educational license + 1 Lands Design educational license.
3rd Prize: 1 VisualARQ educational license
Questions?
Don't hesitate to contact us if you have any questions related to this contest.