I can't see VisualARQ object styles libraries. Why? How can I load them?
When you are working on a document that doesn't contain any VisualARQ object library, it means that the document was created from a template which was not a VisualARQ template, and the default library of VisualARQ object styles wasn't loaded.
There are two options to get the styles:
Open a VisualARQ template
Those are located in the same folder as the Rhino templates. Just create a new file by going to File > New… or by running the command _New. The templates folder should appear.
In case you cannot find them, browse to the folder manually: %APPDATA%\McNeel\Rhinoceros\6.0\Localization\
Then select the geographical area folder and you will find the templates in the Template Files folder.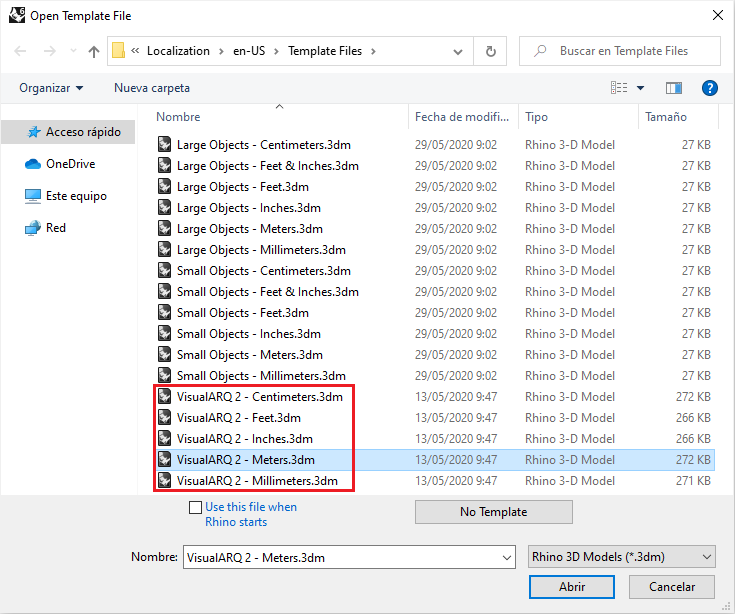 Import a .val file
A .val file is a container for VisualARQ styles, it can contain not only one but several of them.
For example you can create a .val file with all the VisualARQ styles libraries and import them when needed. To do so follow the steps below:
Open a new project from a VisualARQ template (File > New…).
Export the object styles libraries: Go to VisualARQ menu > Styles > Export… or run _vaStylesExport. Choose "New file" option, name it (select a folder in your computer from the Browse button), pick units, and click "Next". Select the objects you want to include in the exported styles file.
Import the library file: Go to VisualARQ menu > Styles > Import… or run _vaStylesImport. Pick the (.val) file and select the object styles that you want to be added to your document.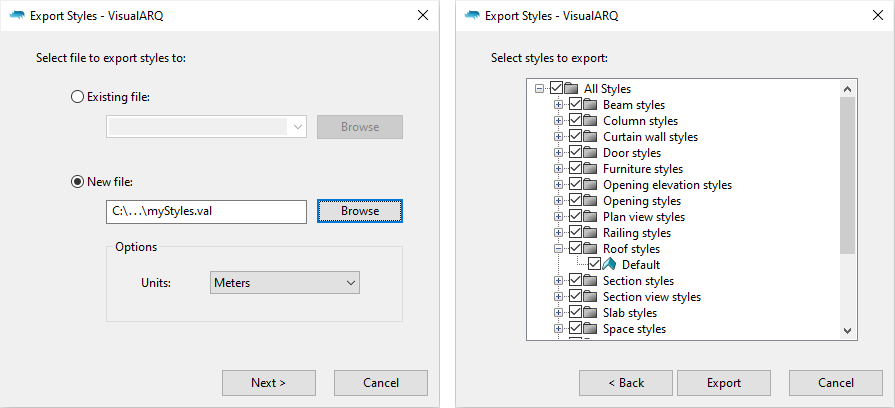 Note: The .val files that contain the object styles library that come with VisualARQ templates can be found at the following folder (in English):
Rhino 6: C:\Program Files\AsuniCAD\VisualARQ 2\RHINO6\English\Libraries
Rhino 5: C:\Program Files\AsuniCAD\VisualARQ 2\RHINO5x64\English\Libraries