Documentation Tools
Documentation tools are used in VisualARQ to generate the 2D drawings and model data output automatically from the 3D model.
Geometry and object data are linked so they update automatically at any change.
Command to create one or multiple spaces. The information of the spaces (name, area, perimeter, etc) is displayed in a label and geometry is marked with a hatch pattern.
Spaces can be created by picking an inner point (of a closed boundary made of walls and/or columns), from a curve or from a flat surface. They all work by floors.
Spaces created with pick point option can be updated with VisualARQ update command.
Spaces are also linked to VisualARQ tables.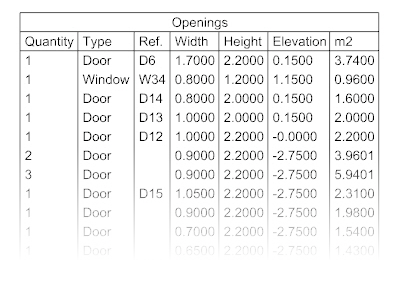 VisualARQ includes three predefined table styles to quantify Walls, Openings and Spaces, but new table styles can be created to quantify any VisualARQ object.
Tables can quantify, for instance, the area, length and volume of VisualARQ objects.
Tables are linked to the model: when the model is edited, the information shown inside the table can be updated using the update command.
Tables can be exported to Excel and .csv format.
Opening Elevations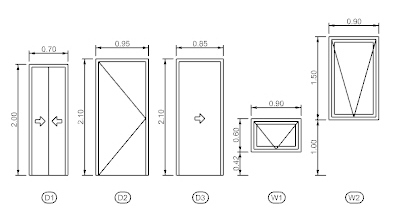 Command to create 2D drawings for all the selected openings (doors and windows) in a model.
Opening elevations are displayed in the Plan view with their main dimensions and with a reference that identifies their location in the model.
Opening elevations are also linked to VisualARQ tables.
Sections (video)
Command to automatically create sections and elevations of the project: the 2D drawing created with this operation shows the projection of the selected 3D objects, as well as a cutting line and a section reference text displayed in the Plan view.
Dynamic section: option to view the model sectioned in real time.
Rhino and VisualARQ objects are hatched in section drawings, according to the attributes of the different Section View styles. (video)
Sections are linked to the model: when moving the section cutting line the 2D drawing updates automatically. When editing/deleting any of the selected objects, the 2D drawing can be updated using VisualARQ update command.
Plan View
Command to create a plan view: the 2D drawings created with this operation can be used to set the different layouts.
In the level manager dialog box, there is an option to choose between VisualARQ top view visualization and Rhino Top viewport.
Option to create automatic dimensioning when creating a floor Plan view.
Real-time Plan Views in page Layout details.
Scale factor for the Plan View display.
Option to define the Plan View limits from a boundary curve.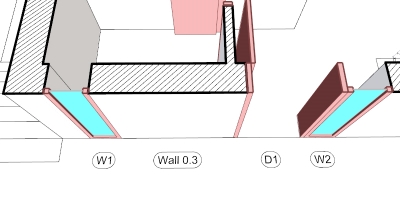 Command to create labels at the bottom of each object that displays each object reference text.
Tags can show dynamic information of VisualARQ objects, according to the objects properties.
New Profile
Command to create custom profiles that can be used for creating custom columns, beams, doors, Railings, windows and openings. These profiles are not parametric.
Update
Command to update the changes applied to one or more objects when the update process is not automatic.